Nestled in Lebanon, Tennessee, Rescued Treasures Furniture, owned by Beth Pietras, has become a haven for creativity and craftsmanship. Beth's entrepreneurial journey took a remarkable turn when she embarked on the transformative Dixie Belle Bootcamp. This Bootcamp for Success program empowered Beth to optimize her social media presence, streamline administrative processes, create stunning displays, engage with the local community, and offer valuable workshops and classes. Let's delve into how Beth's participation in the bootcamp elevated Rescued Treasures Furniture to new heights of success. 
Step 1: Social Media Analysis and Optimization:
Firstly, Beth realized the potential of social media in reaching a wider audience. Through the Dixie Belle Bootcamp, she gained insights into analyzing and optimizing her social media platforms. Beth learned to create captivating content, identify her target audience, and utilize effective tools to enhance her online presence. By implementing these strategies, she transformed her social media channels into powerful marketing tools, attracting a larger customer base and driving significant growth for Rescued Treasures Furniture. 
Step 2: Administrative Updates and Reminders:
Secondly, efficiency in administrative processes is vital for any successful business. Beth diligently completed administrative updates, ensuring that her business information remained accurate and up to date. By staying organized and submitting the necessary documents to the bootcamp's administrative team, Beth streamlined her operations. This allowed her to focus on delivering exceptional customer experiences and furthering the success of Rescued Treasures Furniture. 
Step 3: Display Challenge
:
Thirdly, Beth enthusiastically embraced the display challenge, a crucial step in enhancing the visual appeal of her store. She actively participated in the retailer group, seeking feedback and inspiration for her displays. Beth skillfully incorporated constructive suggestions and innovative ideas, resulting in captivating displays that caught the eye of customers. The transformed ambiance of Rescued Treasures Furniture attracted more foot traffic and boosted sales, establishing the store as a go-to destination for unique and beautifully displayed furniture pieces.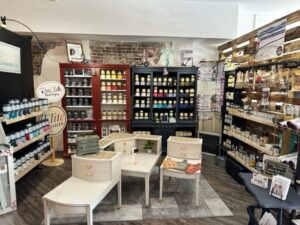 Step 4: Local Community Engagement:
Furthermore, Beth recognized the importance of community engagement in fostering business growth. She actively connected with the local community by organizing events, participating in local fairs and markets, and collaborating with other businesses. Beth's dedication to building relationships and supporting her community earned Rescued Treasures Furniture a strong reputation and loyal customer base. By actively engaging with the local community, Beth created a thriving business that truly resonated with her target audience. 
Step 5: Workshops, Demos, and Classes:
As a result, Beth's passion for sharing her knowledge and love for furniture restoration led her to offer workshops, demos, and classes. Through the Dixie Belle Bootcamp, she gained valuable resources and tools to create enriching experiences for her customers. Beth utilized her store space effectively, providing a conducive environment for learning. By promoting these events through social media and word of mouth. Beth attracted a diverse audience eager to learn the art of furniture restoration. Rescued Treasures Furniture became a hub of creativity and education, further solidifying its position as a trusted resource within the community. 
In summary, Beth Pietras, the owner of Rescued Treasures Furniture, has embarked on an extraordinary journey through the Dixie Belle Bootcamp, and as a result, has now become a Dixie Belle shining star. "I am thrilled to be a part of such an amazing company.  Dixie Belle Paint Company provides many resources, such as this Bootcamp to help their retailers grow their own businesses.  My favorite part of the Bootcamp was The Display Challenge.  It was beneficial to see how other retailers display their products and also to hear some helpful suggestions from other retailers on the best way to display the products. My display has never looked better!" The Bootcamp for Success journey of Rescued Treasures Furniture serves as a testament to the transformative power of the Dixie Belle Bootcamp and a source of motivation for aspiring retailers.