Hey everyone, At Home with Ashley here!
Here's the before picture of the record player. It definitely wasn't in perfect condition- lots of scratches and dings and paint splatters. I knew when I bought it from the thrift store for $30 (I still can't get over that deal!) that I'd paint it.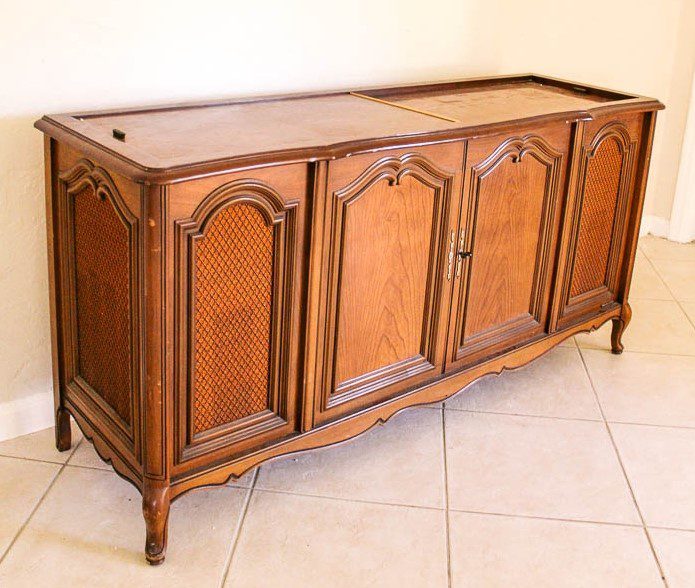 Is it bad to paint wood furniture?
Ok- let's make this short. Do what you want that makes you happy and works in your house. The end. Lol- let's dive in deeper.
It's not uncommon that people say that in every case you should never paint wood. And I get that! Honestly, I grew up with that mentality as well. However, I think it's a little less black and white than that.
Generally, there are a few times when you shouldn't paint wood.
1. WHEN THE ORIGINAL FINISH IS BEAUTIFUL
So, if the original finish is beautiful then you can hold back from painting. Also, a few finishes are very classic and don't really go out of style. Then you don't have to worry about updating them as styles come and go. Yay!
Personally, I don't hesitate to paint a piece if the original finish is damaged. Some pieces can be easily repaired. But in some cases, the damage is beyond saving.
2. WHEN THE FURNITURE IS A VALUABLE ANTIQUE
3. WHEN YOU WANT TO STRIP THE FINISH AND ENJOY THE WOOD
Finally, many pieces have a good bone structure but a not-so-nice finish. In that case, it's totally fine to strip the finish and give it a prettier one so you enjoy it how you want it.
Here are some times it makes sense to paint wood.
1. WHEN YOU WANT TO PERSONALIZE AND CUSTOMIZE A PIECE
Painting can be such a fun way to express your style and personality and gives you the joy of creating.
When I paint furniture- I always use chalk paint. I have a good overview on chalk paint here if you're new to it.
2. WHEN YOU SAVE FURNITURE FROM THE DUMP
3. WHEN YOU CARE ABOUT SUSTAINABILITY
painting wood is a great option if you care about sustainability and using available resources to their maximum!
Imagination and paint goes a long way to making an older piece look fabulous again! Plus you're keeping it from being disposed of.
4. WHEN YOU'RE LOOKING FOR A TRENDY STATEMENT
Finally, painting is perfect when you want to have a current, specific look. Since paint is easily changed or covered, you can always repaint it when you're ready for a new look.
Also, you can always adapt a painted piece to your home's color scheme as it changes over the years.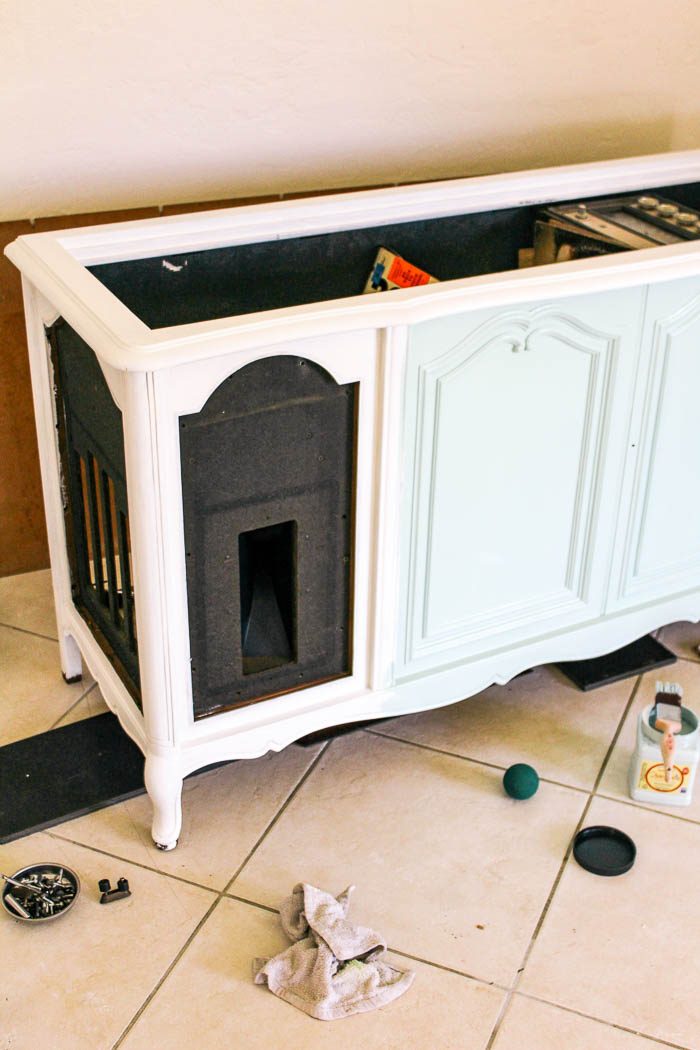 How To:
So I primed it with Slick Stick and then painted it with Dixie Belle Paint Sea Glass.
I replaced the orange speaker fabric with beige speaker fabric. Next, I switched out the metal on the speakers for caning to modernize it a bit. Plus, I was really excited to add caning in this house!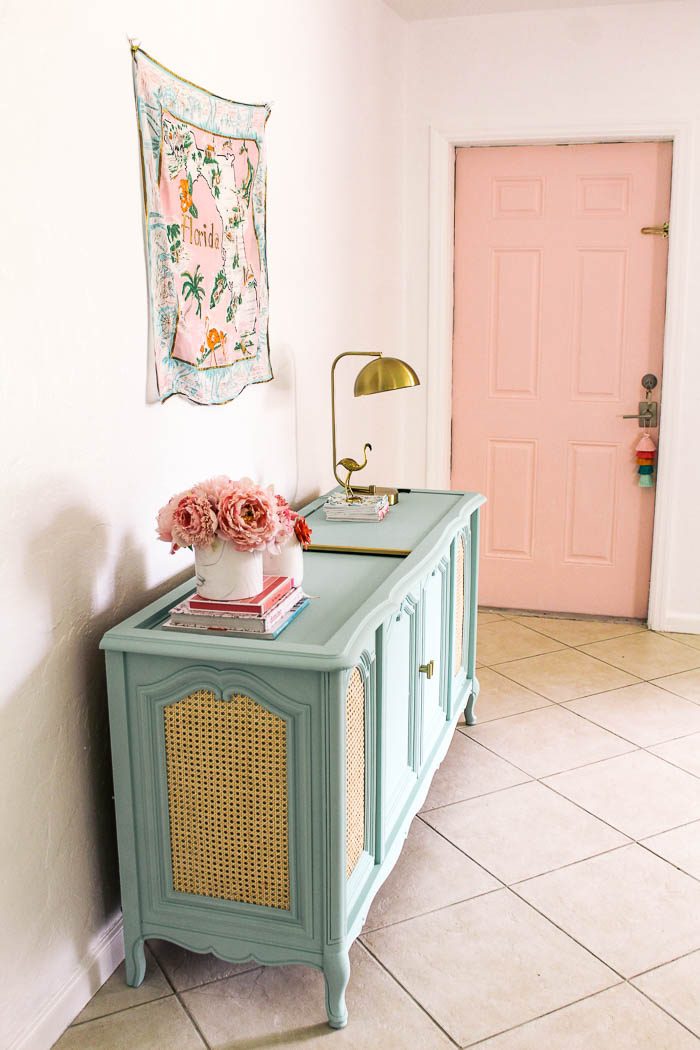 Here's the finished up record player! Didn't it turn out so sweet?! It's fun and playful and I sure love the color!
I got a more retro look and it sounds great with the speakers.
To learn more, head to At Home with Ashley here!