Hi everyone! It's Tracey from Tracey's Fancy! This Mediterranean armoire is a trash-to-treasure story that only took a single day! A petite and frail armoire in the simplest style ever…..with its peeling and lifting veneer…..offered all the space I needed to showcase a few new fabulous products that I couldn't wait to share with you! And now look at it!  It stands in all its fun and funky boho-glory aged in patina and gilded to perfection!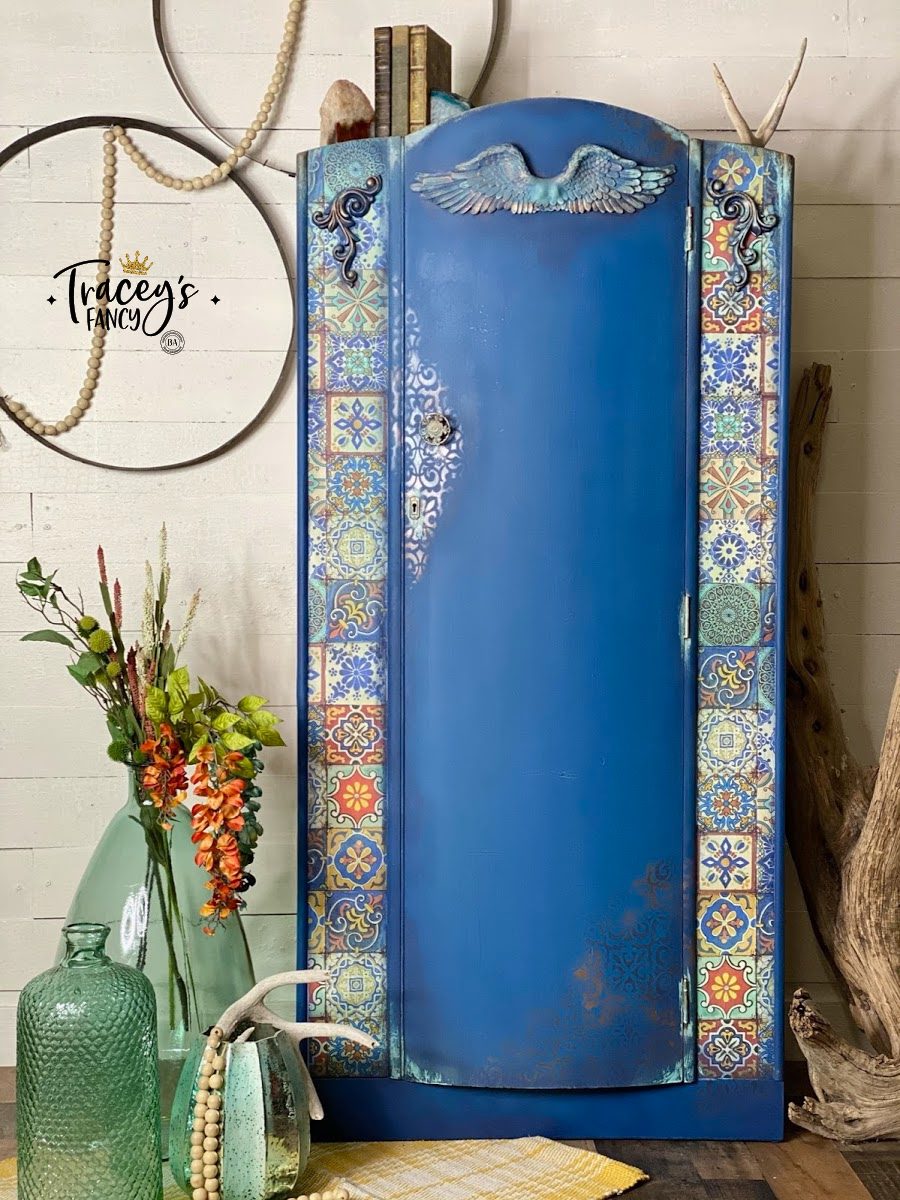 Materials List:
How To:
Step 1:
After a really good clean with White Lightning…..I first applied these crazy good angel wings from WoodUBend!  I have had these in my stash for quite some time and have just been waiting for the perfect piece to feature them!
Step 2:
I then painted the entire piece in Cape Current….a very bold and powerful blue! I knew I was going to apply the rice decoupage paper on the side panels….and I wanted the white of the "tile" to really pop!  So I painted the background white….using Salt Water.
PRO TIP: remember to always keep in mind that decoupage papers are quite sheer and very often your underlying paint color will affect your final look.
Next, I painted a second coat over the existing Cape Current and the existing Salt Water.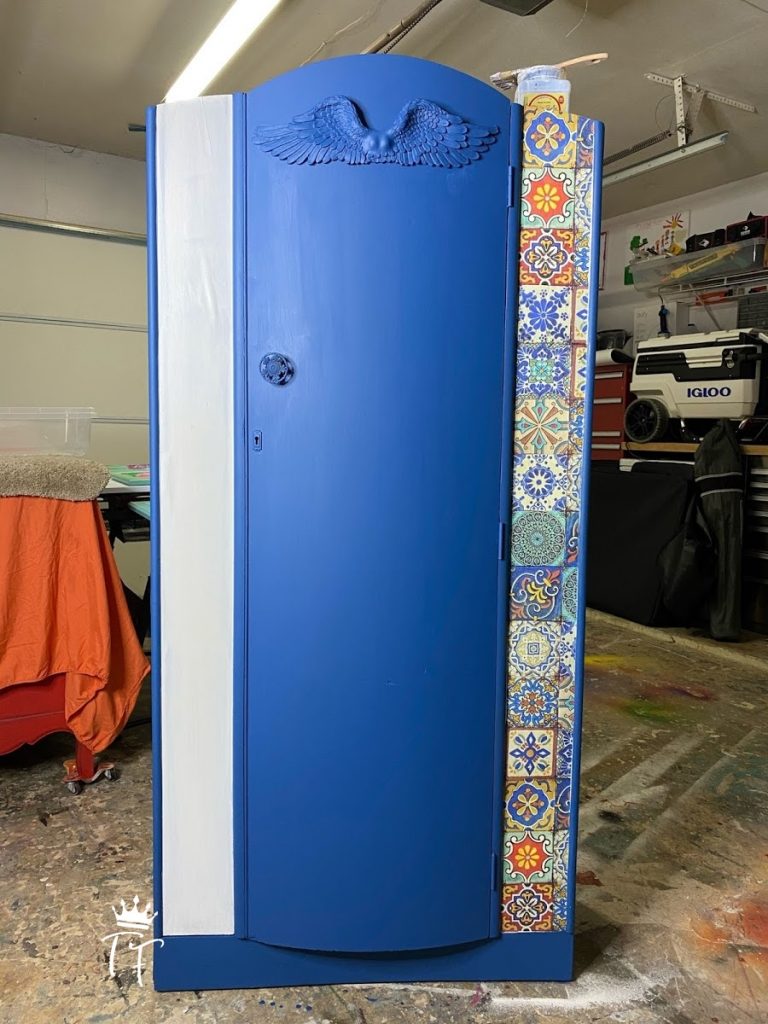 Step 3:
Now for the decoupage fun!  I used Dixie Belle's Clear Coat in Satin to apply the new Colorful Tiles Paper.  First, I measured and cut my paper in strips first.  Then, I applied a single thin coat of satin top coat….and pressed the paper into it.  After that, I lifted and laid back down until I had it just right and smoothed it out with a small brayer (roller) pressing out any bubbles.  I also run my hand over to feel for any bubbles I might have missed.  I then add a thin layer of top coat over the top of the paper….not too much….just a thin layer….and let dry.  It really looks like tile! I repeated this on the other side.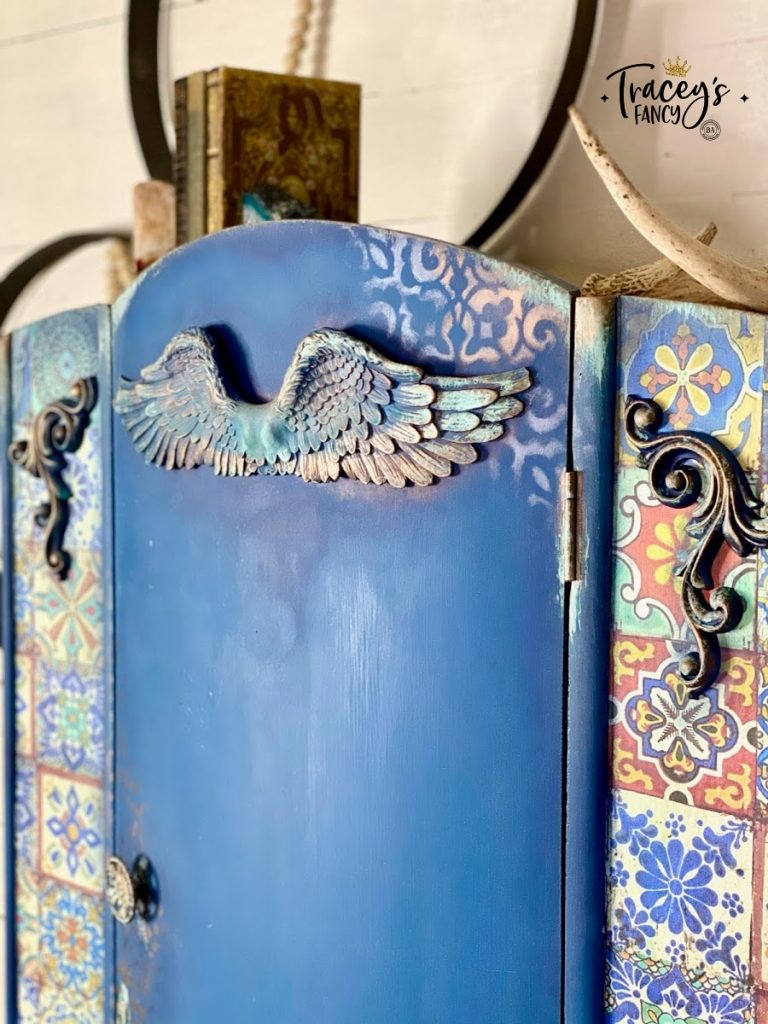 To read the rest of this Mediterranean-inspired tutorial, head on over to Tracey's Fancy here!