Paint a Pot for Peace Day: Spreading Joy to Seniors with Dixie Belle Paint Company
At Dixie Belle Paint Company, we believe in the transformative power of creativity and community. We also believe in giving back to the community to support causes that directly impact the families around us. This is why we are thrilled to introduce our "Paint a Pot for Peace Day" campaign—an initiative designed to bring joy to our cherished elderly community through art while contributing to Alzheimer's research. Join us as we embark on this heartwarming journey extending our compassion and creativity beyond the holiday season!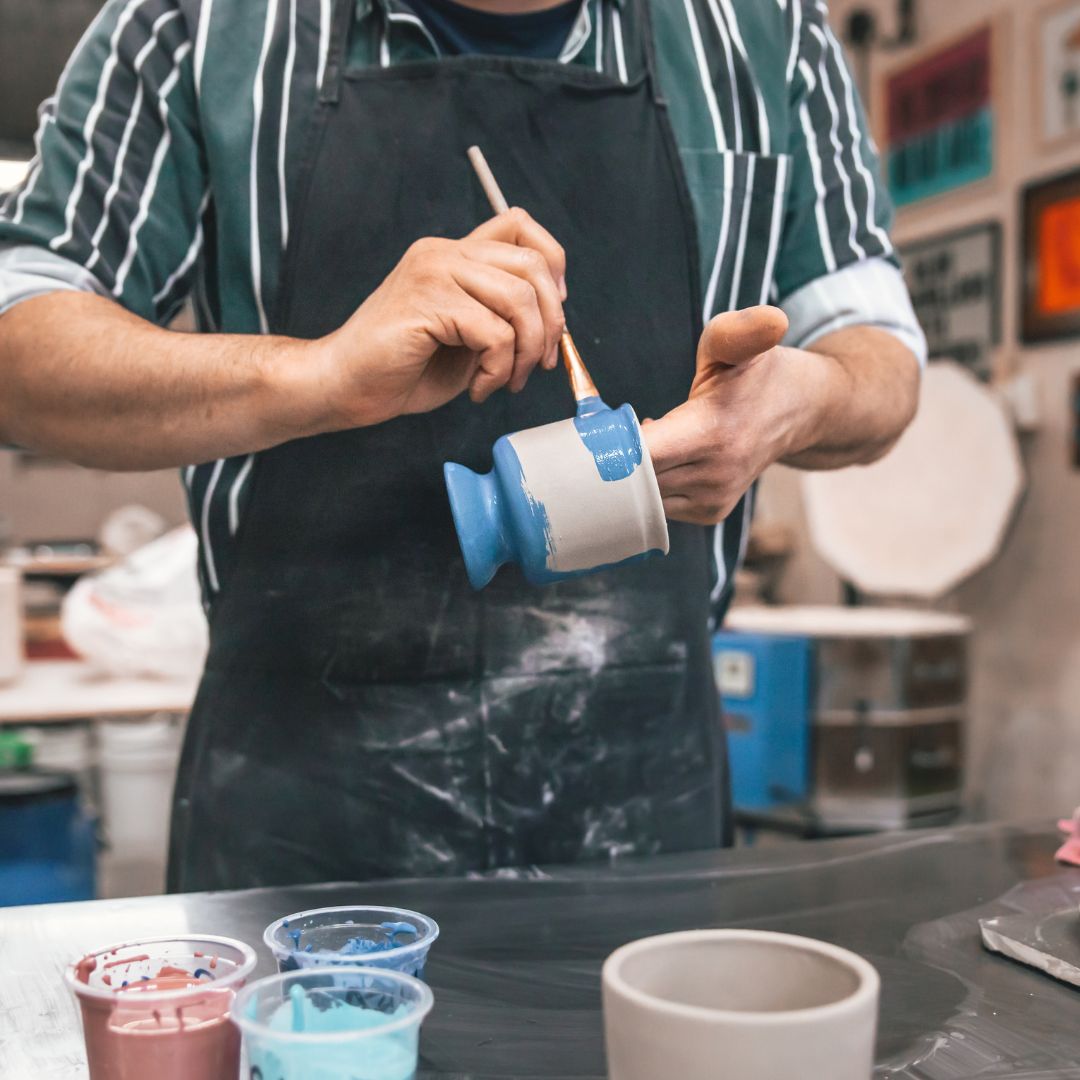 The Purpose Behind Paint a Pot for Peace Day
As autumn settles in and the holiday season approaches, it's the perfect time to come together and make a positive difference in the lives of others. "Paint a Pot for Peace Day" serves as an opportunity to harness the universal language of art to connect people across generations, backgrounds, and communities. Alzheimer's is a disease that affects families across the globe. While robbing our loved ones of a lifetime of sacred memories in seemingly little to no time, Alzheimer's shows no mercy. By sharing your creative talents and shining energy, you can brighten the lives of seniors who may experience the disease. Not to mention, donate to an impactful cause.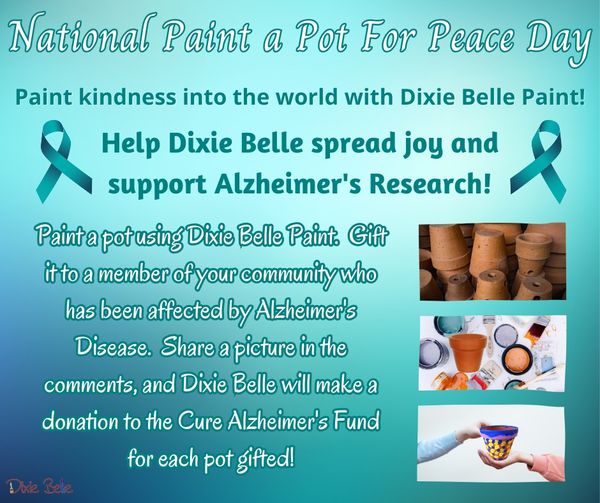 How You Can Take Part
1. Gather Your Supplies
To get started, you'll want to find some pots. You can find affordable clay pots easily find at local garden centers, dollar stores, or through online retailers. Select a variety of sizes and shapes to add a touch of diversity to your project. For a more resourceful solution, look around and see if any pots you currently own could use a new look.
2. Choose Your Dixie Belle Paint Products
Our extensive range of paint products is ideally suited to support a creative, humanitarian endeavor such as this. For your painted pots, we recommend using our high-quality Chalk Mineral Paint, known for its excellent coverage and smooth finish. On the contrary, Dixie Belle's Terra Clay Paint in the vibrant color Lani's Lagoon is the perfect hue to signify your support. For added flair and decorative accents, explore our vibrant and long-lasting Gilding Wax.
3. Let Your Imagination Soar
Unleash your creativity as you design and paint your pots. Whether you opt for classic holiday themes, uplifting messages, or intricate patterns, the artistic direction is entirely up to you. Use Dixie Belle Paint Belle's and Whistle's product line to take your creation to an even higher level. Add Mylar Stencils and Transfers for a flawless design.
4. Share the Love
Once your pots are complete, take a glamorous photo of your masterpieces and post them on Facebook! Dixie Belle Paint will share a designated post in which creators will post their masterpieces in the comments. Be sure to use the hashtags #paintapotforpeace and #dbpgivesback. For every single photo shared on the post, Dixie Belle Paint will generously donate $1 to the Cure Alzheimer's Fund.
5. Spread the Word
Inspire your friends, family, and colleagues to join this heartwarming initiative. Share our campaign on your social media platforms, tag your loved ones, and encourage them to participate, further amplifying the impact of our collective creativity. Host a pot painting party or attend a workshop at your local retailer to make it a social event.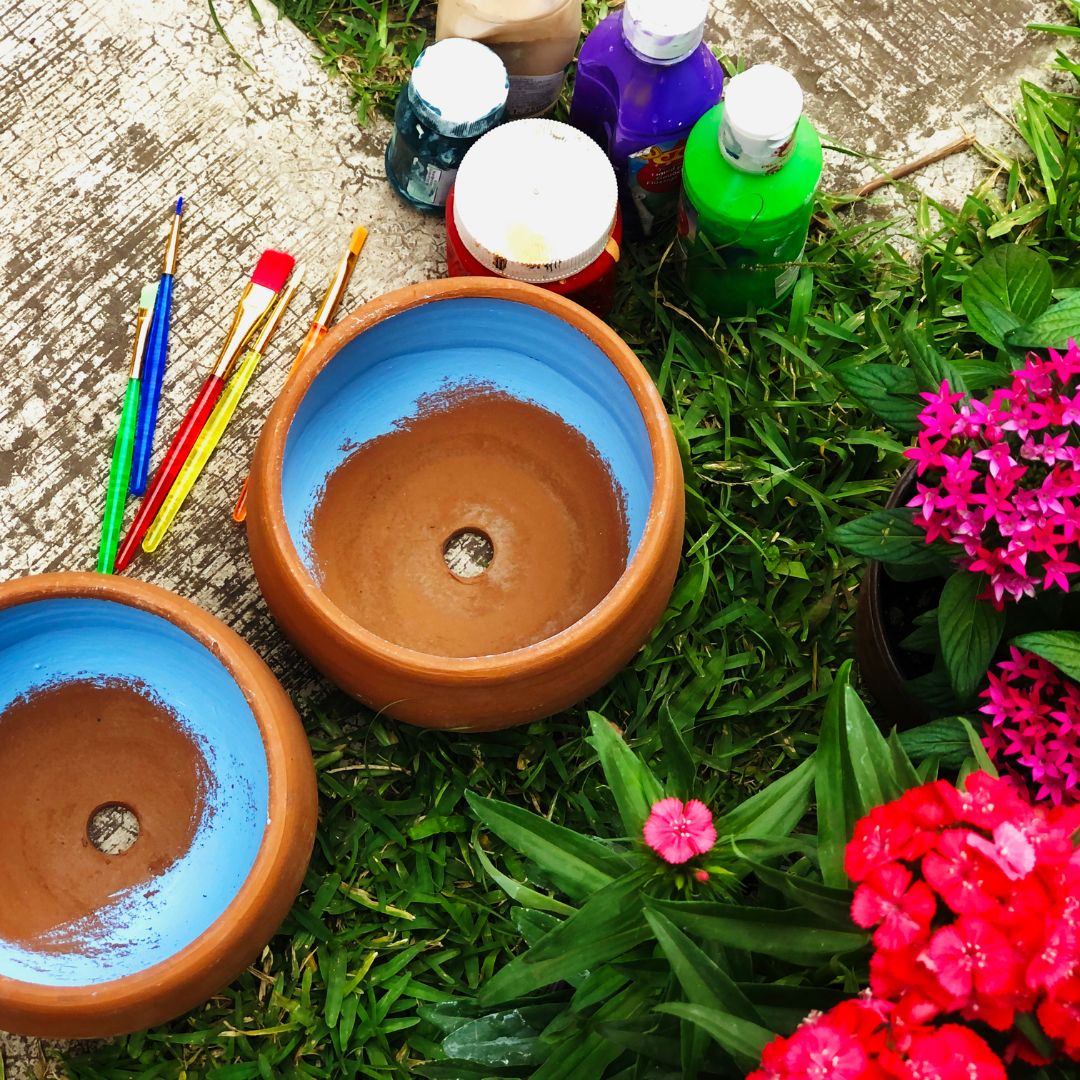 Campaign Duration and Impact
Our "Paint a Pot for Peace Day" campaign runs now through November 30th, allowing you to contribute to the well-being of the elderly community well beyond the initial event. Your acts of creativity and kindness during this campaign not only bring joy to seniors but also support vital Alzheimer's research through our donations to the Cure Alzheimer's Fund.
The Power of Your Participation
Alzheimer's disease affects millions of individuals and their families globally, and research plays a pivotal role in finding a cure. By participating in "Paint a Pot for Peace Day" and sharing your creations on Facebook, you become a beacon of hope, not only for seniors but also for those affected by Alzheimer's. Your contribution, no matter how small, helps us make a significant impact on this crucial cause.
Let's unite as a community and create a ripple of kindness and creativity this season. Together with Dixie Belle, we can make a profound difference by brightening the lives of seniors and supporting vital Alzheimer's research. Join us in painting a pot for peace, one stroke at a time. Your creativity is a beacon of hope, and together, we can bring joy to those who need it most.