Have you ever wanted to change up a piece?
Do you have a piece that needs an accent color or some depth and dimension?
No matter what DIY project you have in mind Dixie Belle Paint can help you breathe life into your old pieces.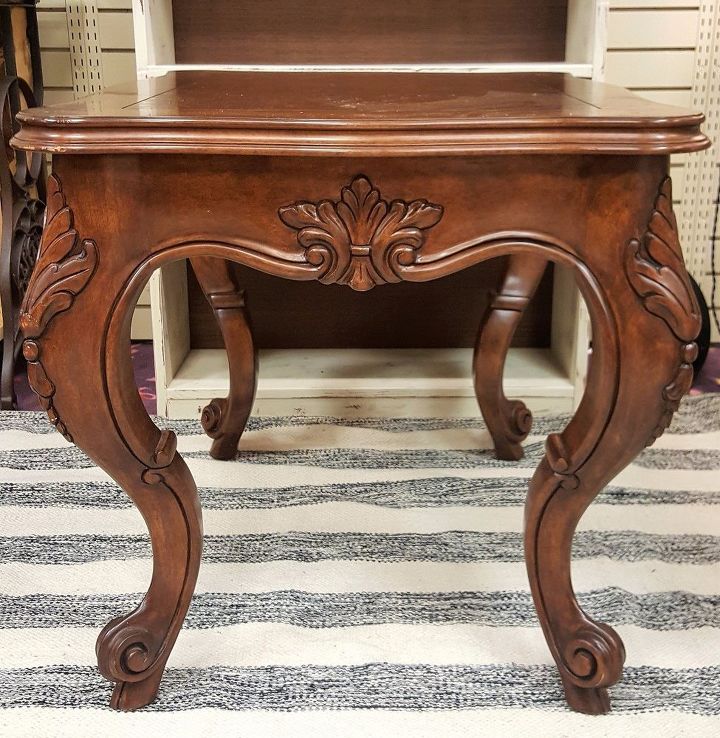 The first step to any DIY furniture project is to clean your piece with White Lightning. Always start with a clean and dry piece of furniture!
After your piece is clean you will want to see assess the material to determine if it will need a light sanding. Laminate and high gloss surfaces will need to be scuffed up lightly so that the paint will stick better. This piece was cleaned and sanded.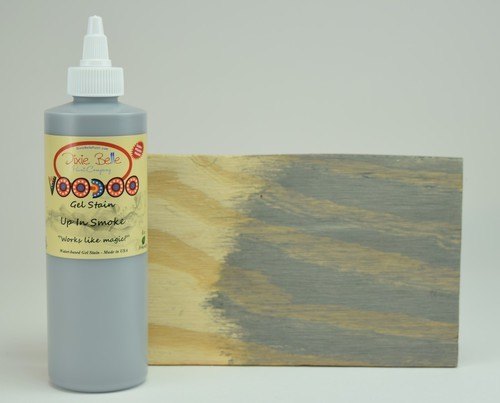 Up in Smoke is a steely gray color that can be used on unfinished wood, painted and unpainted pieces. It comes in a convenient squeeze bottle that is great for application and storage. Voo Doo Gel Stain is also water-based, which means easy peasy soap and water clean up!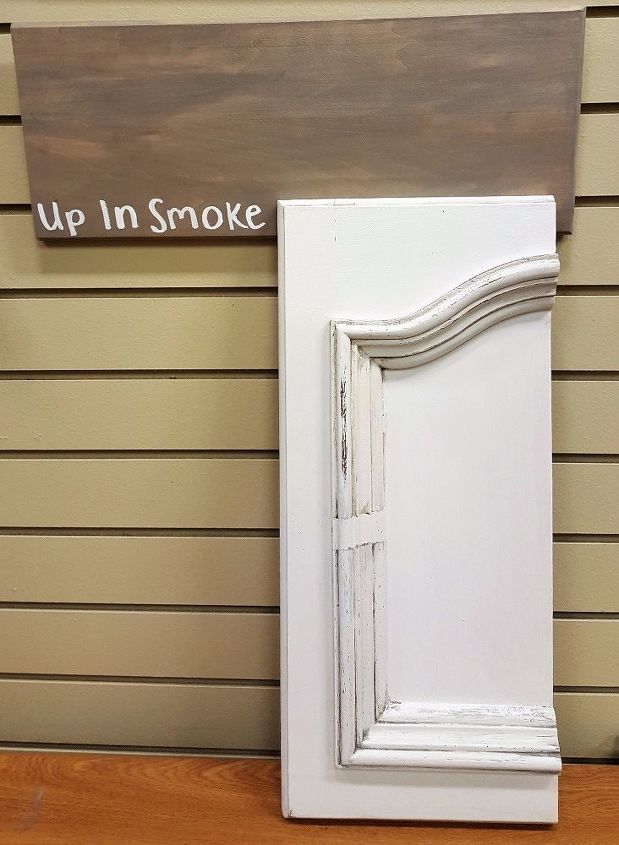 Here you can see what VooDoo Gel Stain looks like alone and used as a glaze on this cabinet door.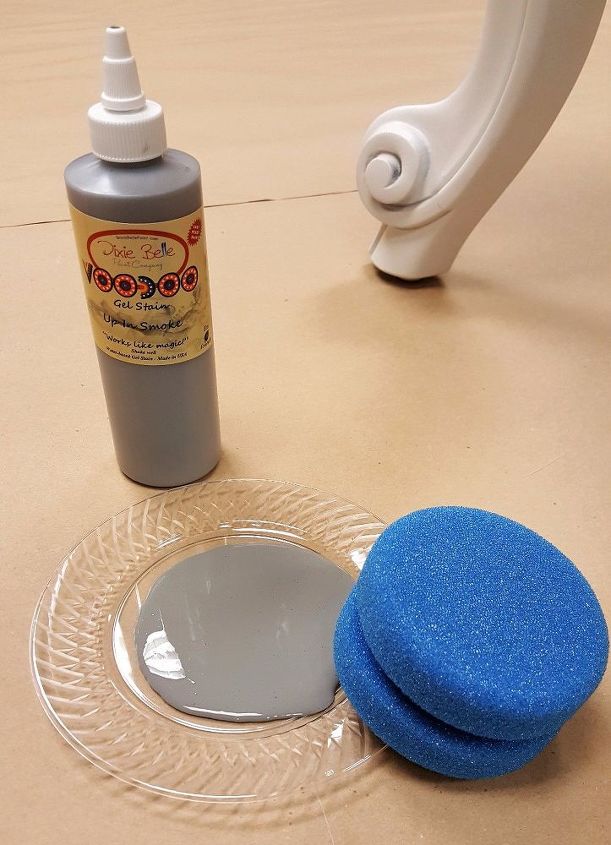 VooDoo Gel Stain can be applied by squeezing it right on to the surface, brushing it on or using a sponge to apply.
If you are working on a larger project you may want to squeeze some of the product out first so that you can control how much you are putting on.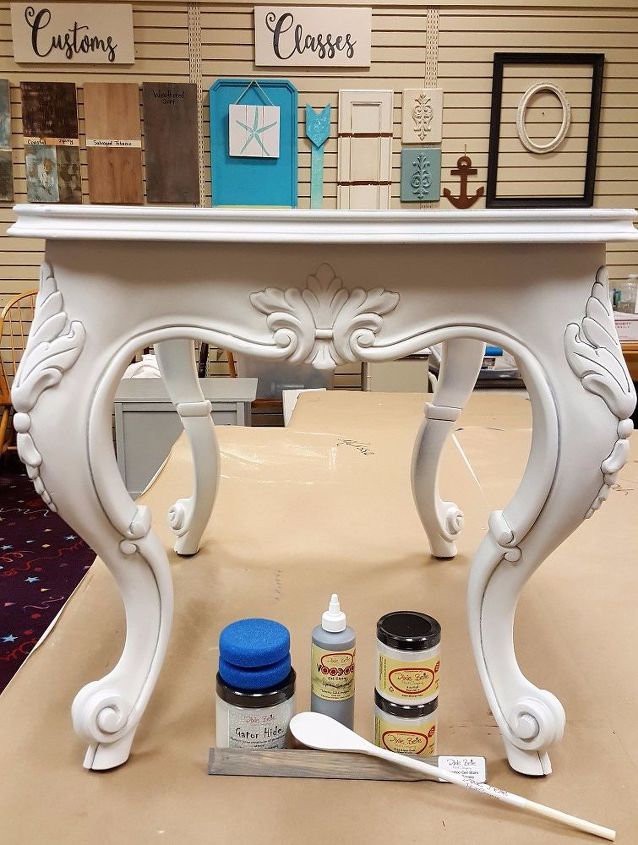 Here are the products you will need to achieve this look. Up in Smoke Voo Doo Gel Stain, 8 oz Fluff, 8 oz Satin Clear Coat, 16 oz Gator Hide & Sponge!
The table was painted in two coats of Fluff.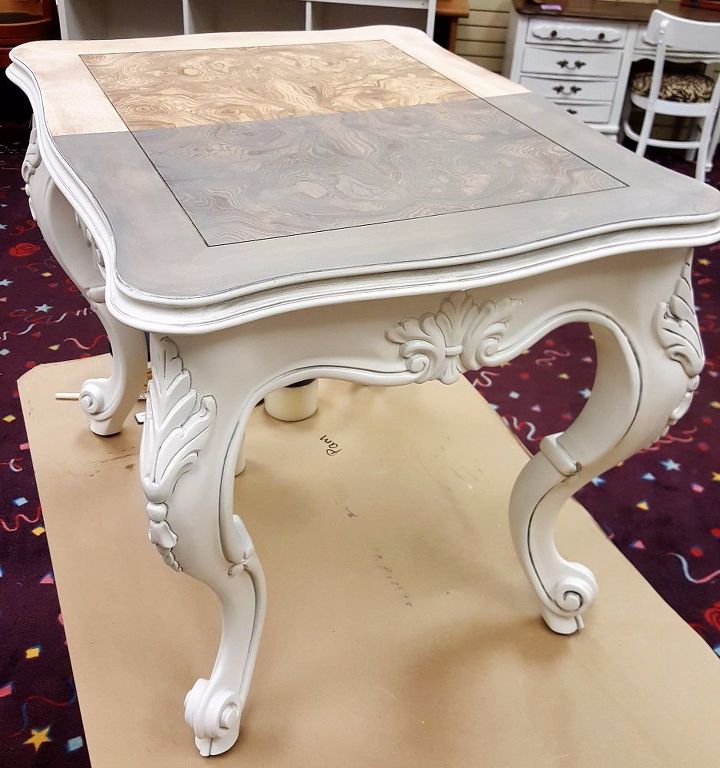 The top of the table was not painted in Fluff.
Instead, 2 coats of VooDoo Gel Stain in the color Up in Smoke was applied to the top. You can see the smokey gray color that was achieved in comparison to the bare wood in the rear of the picture.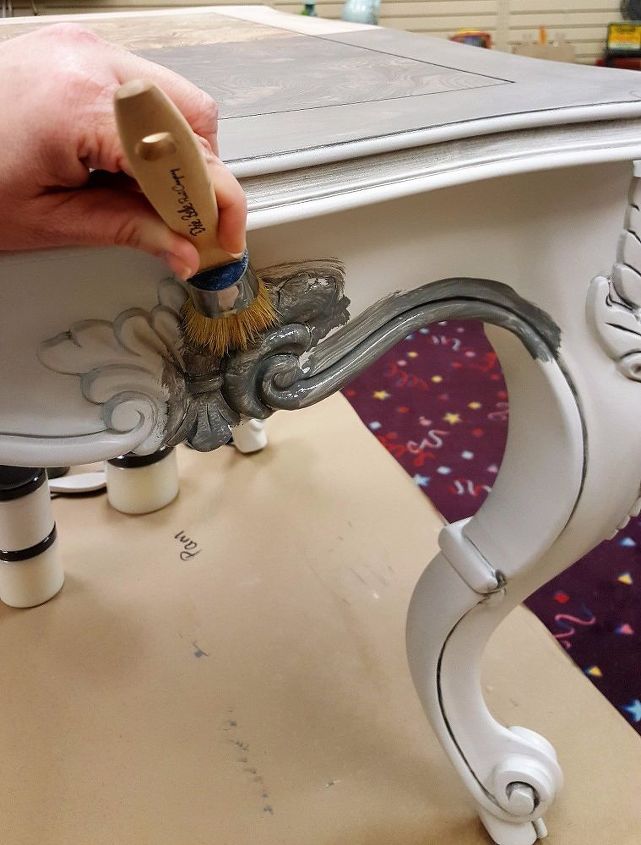 You can also use VooDoo Gel Stain as a glaze. First you will want to apply a small amount of Clear Coat Satin. Next you will apply the stain in the areas you want to enhance.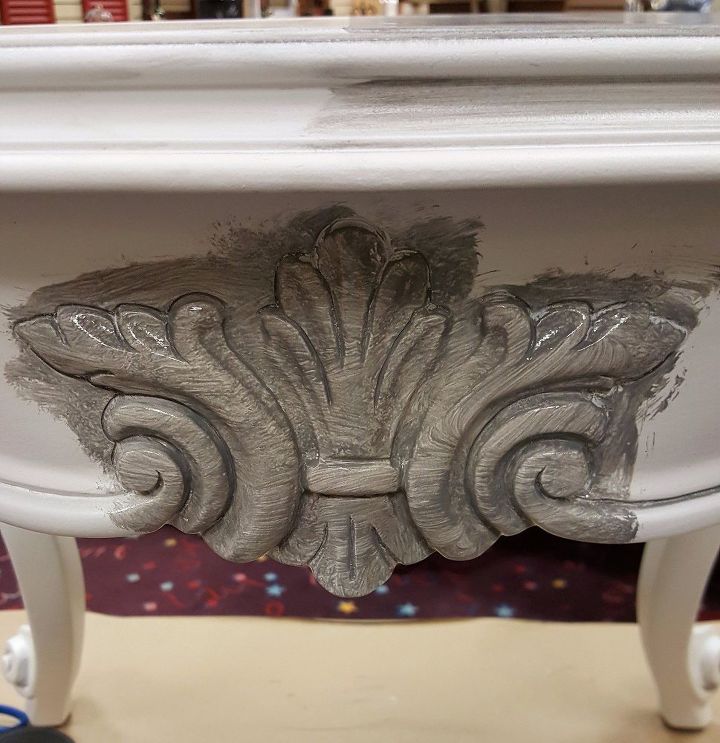 The VooDoo Gel Stain has been applied. As you can see it is transparent and allows some of the underlying color (Fluff) to show through. Do not fear! You can easily wipe away any excess stain.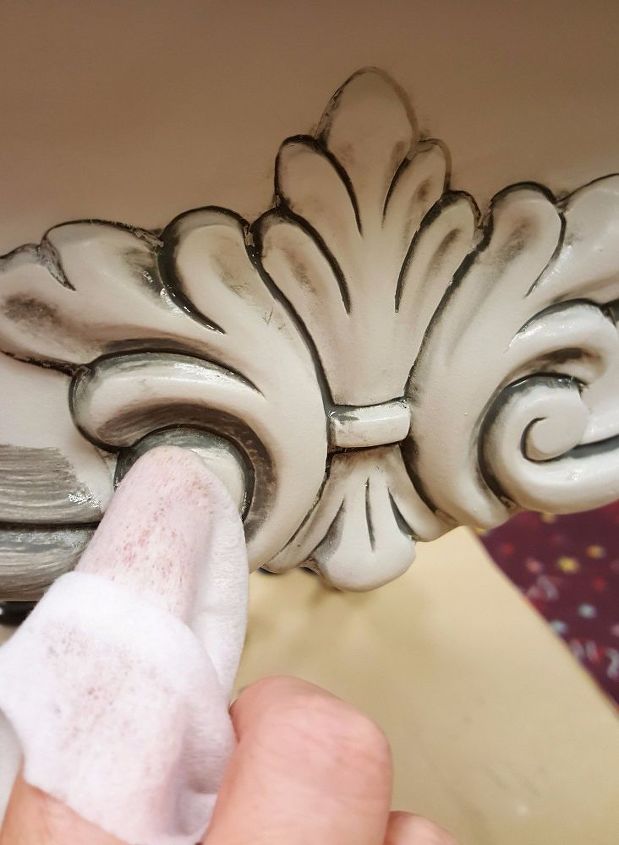 Now you will begin to wipe away the excess VooDoo Gel Stain. You can use any damp lint free cloth or even a baby wipe!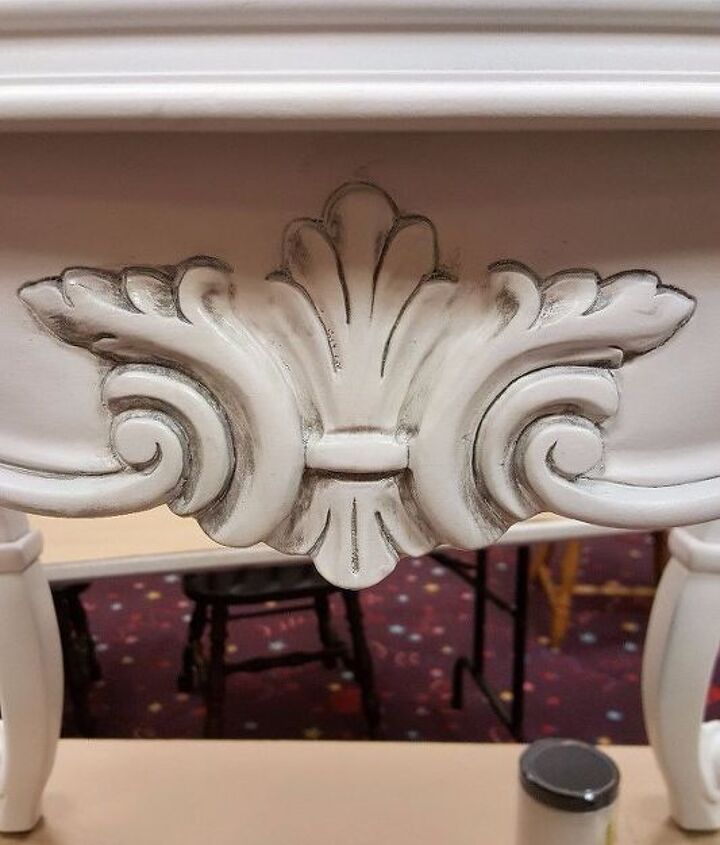 That is all it takes!
A beautiful embellishment with an antiqued, aged look!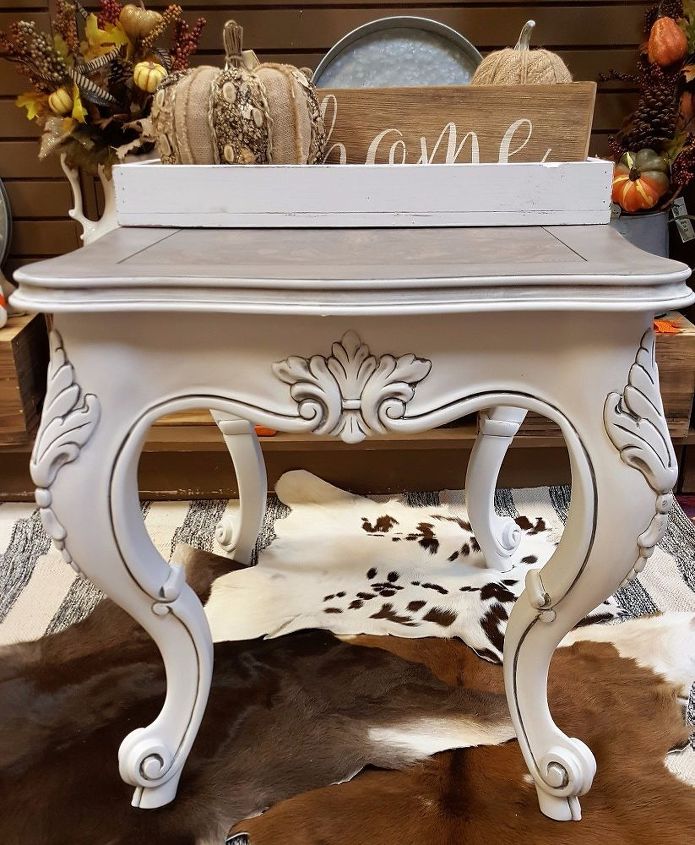 Here is the final look! Its easy peasy to enhance furniture with Dixie Belle Products. We have many more glazes and stains so visit us on Pinterest to see how the products look on furniture!