Do you have any of those ceramic Christmas houses that are set up in a little village? They are pretty on their own, as most of them have the most fabulous architectural details. I haven't put out my village in years, and this year I thought a few pretty white ones would look amazing lit up from within. 
By: Fabiana of Ciao! Newport Beach https://ciaonewportbeach.blogspot.com/2016/12/a-c…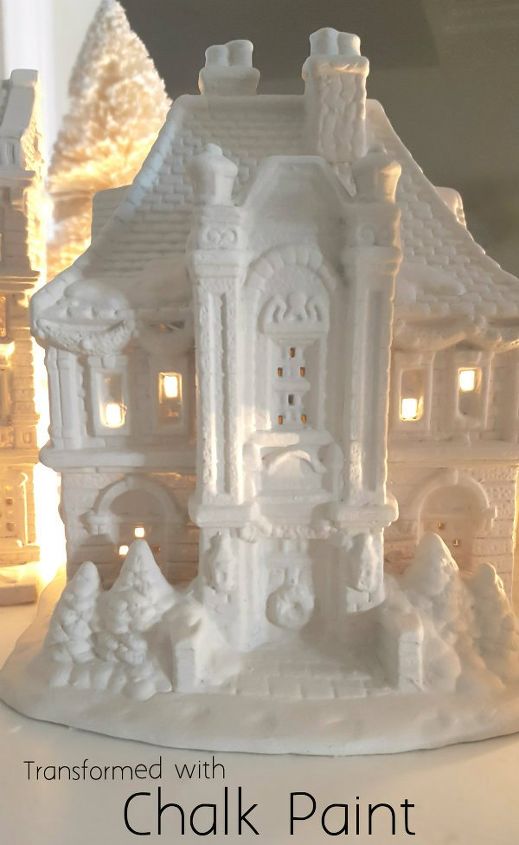 My husband and I decided we wanted mostly white holiday decor in the house this year, with accents of silver and gold and natural evergreens and eucalyptus branches. Well, those dated ceramic Christmas houses are easy to transform with Dixie Belle Chalk Mineral Paint.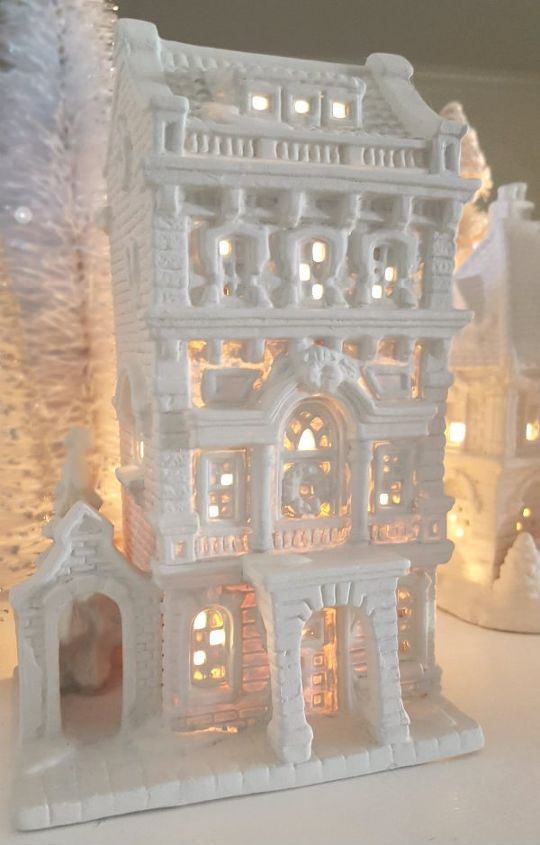 I found the perfect color by Dixie Belle Paint Company called "Drop Cloth". It's not a bright white and not a creamy white… it's perfect! Its actually a mineral chalk paint, and it applied so easily with great coverage on the first coat.
I did apply a second coat to cover all the nooks and crannies. It dries super fast, so I could add the houses within an hour to my décor.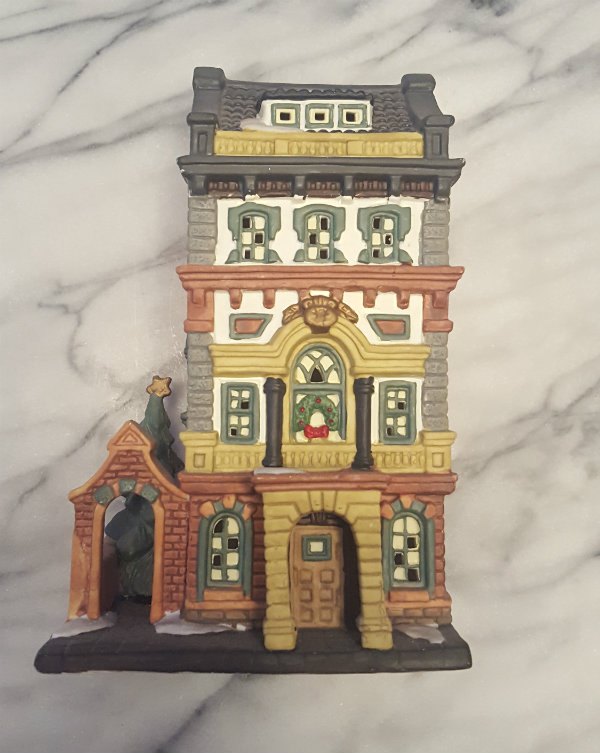 The detail on these homes is so cute! It makes me just want to shrink myself and jump into that house. Ive always had a thing about old houses, especially Victorians.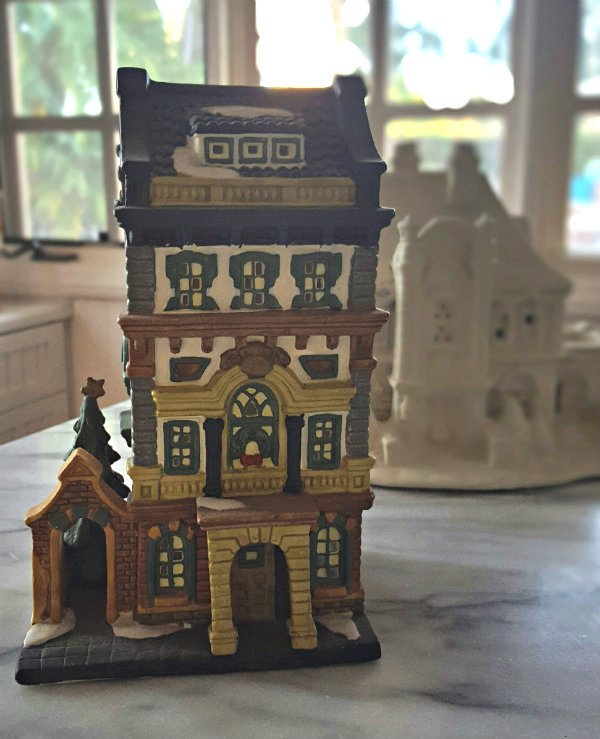 Well, don't worry about painting them, because all the architectural style and holiday décor on these houses is highlighted when painted white.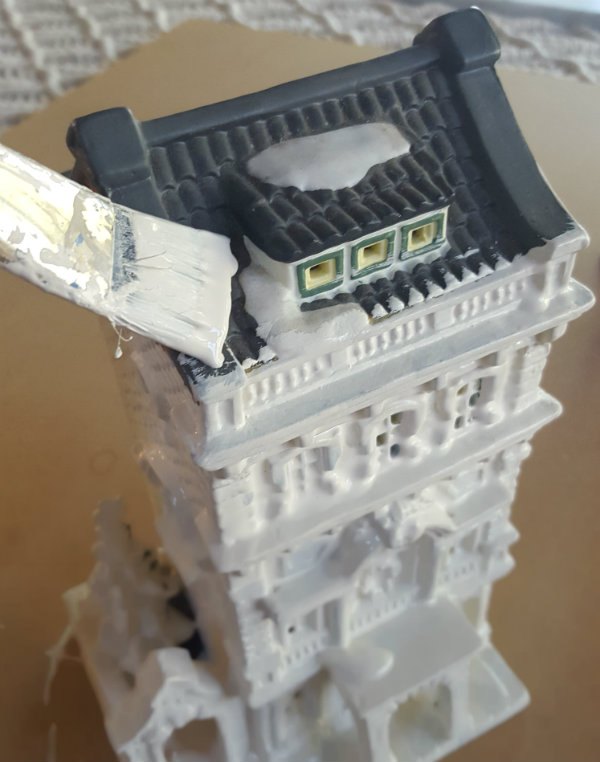 I used a 1 inch wide flat brush and it worked great. It got into all the nooks and the paint was the perfect consistency and so easy to apply. The paint dried quickly to the perfect mat "bisque" finish that's not too flat.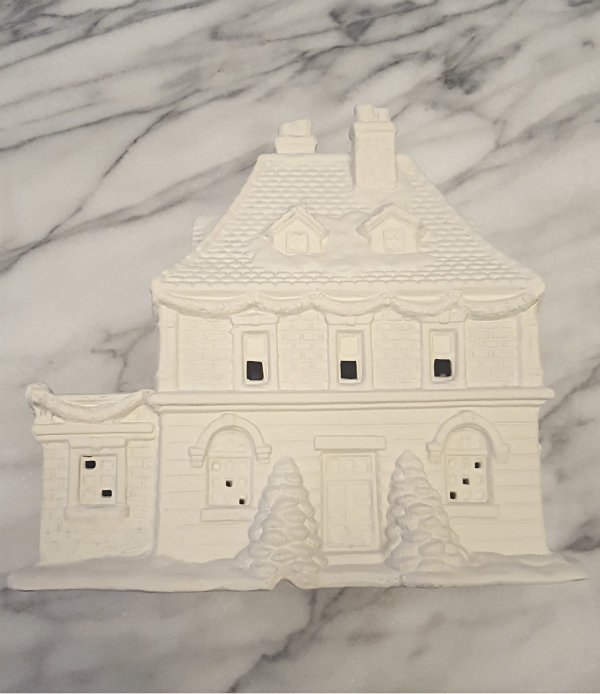 Here's the first one I did.
I had to use a flash. so the photo is not great.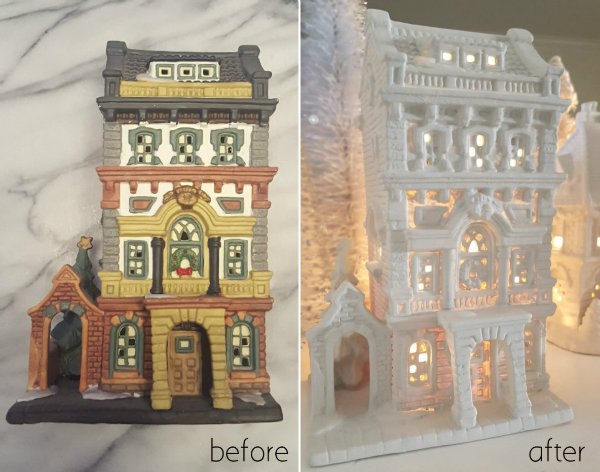 I am so happy with the way they turned out! I lit them with the small lights that they originally came with. They are similar to night light bulbs and are sometimes wired together in groups of 3, 5 or 10.
When lit, the houses really look amazing! I set up a few of my favorite white and silver bottle brush trees as a backdrop to my snowy white village.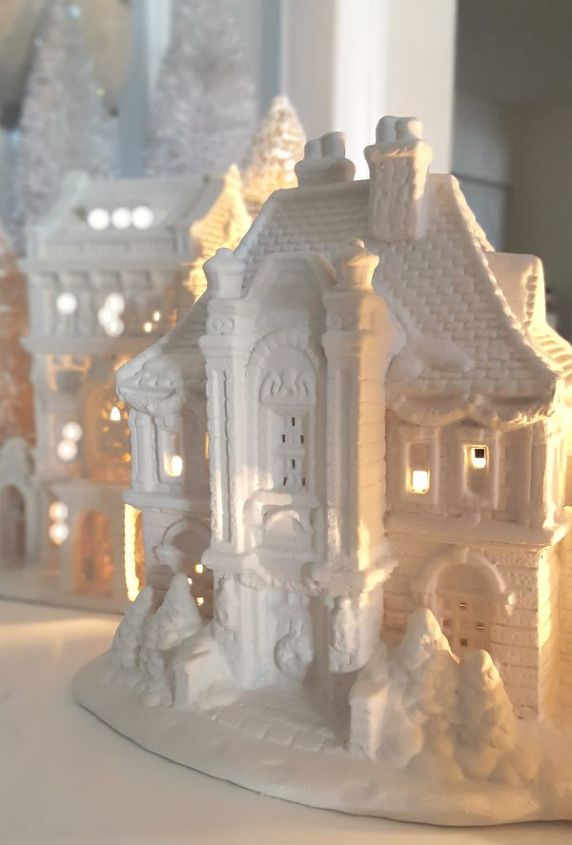 This is my first time using Dixie Belle Paint, and I am so pleased. I have a few of their other colors and can't wait to paint my next project, but I may be busy painting a few more houses today in this "Drop Cloth" color.
The paint goes a long way, and I could probably paint at least three more! Happy Painting!