Hello, my furniture painting fanatics! It's Do from Do Dodson Designs! YELLOW is the color in the house today… and we are going to go into detail about blending Chalk Mineral Paint colors on furniture. So, get ready to dive in deep while I share my BEST tips for this beautiful technique that you can apply to your furniture too.
Materials List:
Oh and don't forget to prep your wood furniture before you paint.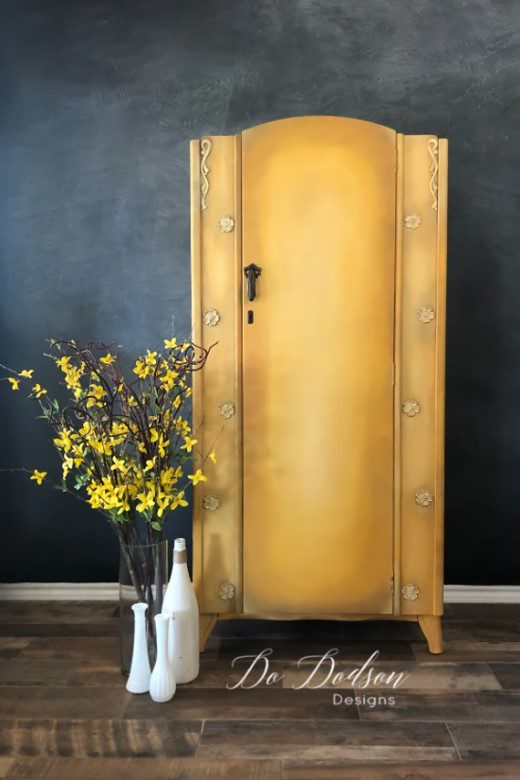 How To:
STEP 1:
Firstly, chose 2-3 colors that are complementary to each other. For example… for this piece I chose Colonel Mustard (yellow), Pine Cone (brown), and Buttercream (off white). Blending Chalk Mineral Paint is much easier when the colors are cohesive. One-color blends into the other creating a third color and you can really create some amazing finishes when colors collide.
STEP 2:
Secondly, you will need good synthetic paintbrushes for blending Chalk Mineral Paint. I prefer the round brushes but there is no reason that you can't use your standard synthetic paintbrush. It's a personal preference but if my round brushes are all dirty I will grab whatever I have clean and go to town. The technique is more important than the style of paintbrush you're using. Just make sure you use a quality synthetic paintbrush.
STEP 3:
Next, prepare the area you're working in. Get all of your supplies together in one place. Once you start painting your going to need your full attention on the task at hand. Paint, water mist bottle, paper towels, and paintbrushes. Use one paintbrush for each color you chose. Turn off your cell phone! Lock the door! Do whatever you need to do to be ZEN and feeling peaceful and calm about the art you are about to create. This is your time and paint can be extremely therapeutic.
STEP 4:
After that, apply 1-2 coats of your base color (yellow) and allow it to dry overnight before you start blending Chalk Mineral Paint on your project. Dry time should be a good 12 hours so that all of the water has had time to evaporate from the paint. The paint is still technically wet when it's dry to the touch and it can take hours to days depending on the temperature and humidity for Chalk Mineral Paint to dry properly. Yes, a heat gun or blow dryer can speed up this process but I'm not a fan of short cuts when I'm blending Chalk Mineral Paint. Take your time and do it right for the best results. If the base coat isn't allowed to fully cure and dry well, blending paint and water on top of the base coat will break it down and cause it to pull away and leave you with exposed wood.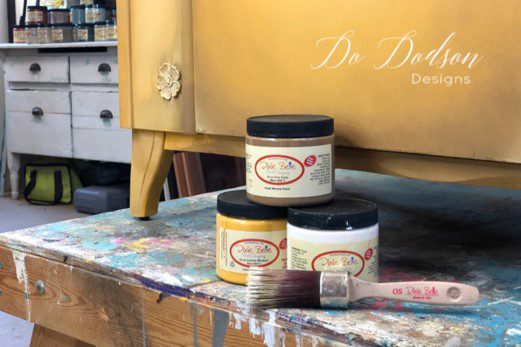 For more tips on how to blend Chalk Mineral Paint, head to Do Dodson Designs here!